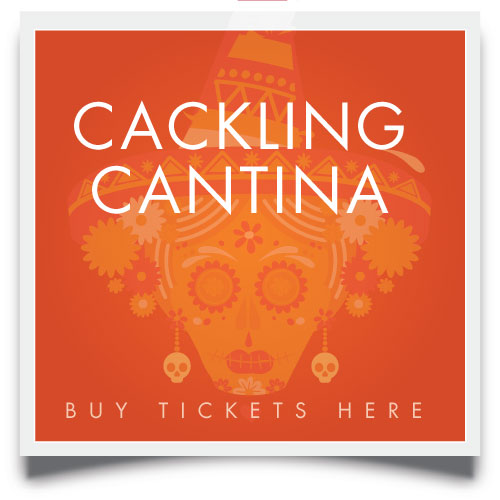 Cackling Cantina
Tickets for the all-new Cackling Cantina during Witches Night Out are now sold out for WitchFest 2020. If you enjoyed Moonstruck Witches Dinner, you'll love Cackling Cantina.

Enhance your experience at Gardner Village's Witches Night Out by attending Cackling Cantina, a private reserved dinner event and VIP Witches lounge area on the Mill Plaza at Archibald's Restaurant.

Taco-about a good time! Witchy senors and senoritas can choose from a plethora of Mexican munchies in a served buffet. Main courses include carnitas, carne asada, or chicken: Tacos, Burritos and Salads along with corn chips and variety of salsas and dips. Traditional desserts along with Horchata, auga fresa, Mexican-style hot cocoa will also be available. And for those who are livin la vida loca, we have a full-service cash bar. It's definitely nacho average dining experience! You and your goulfriends will fiesta like there's no manana.

Interact with Gardner Village witches, and enjoy a delicious dinner. After dinner, step outside into the Village for shopping, then return to the VIP Witches lounge area to relax. Tables are available for groups as small as 2 or up to 10. This year, Cackling Cantina will guac your world.

Dates: October 9, 10, 23 and 24, 2020

Location: Mill Plaza at Gardner Village with seating outside on the plaza (with fire pits on) or inside the Gear and Wheel Rooms at Archibald's Restaurant

Cost: $32.50*

*We've hired ABM Parking to keep things running smoothly. Plan on a $5/car parking fee since this event his held during Witches Night Out.