Moonstruck Witches Dinner Wheel Room 2019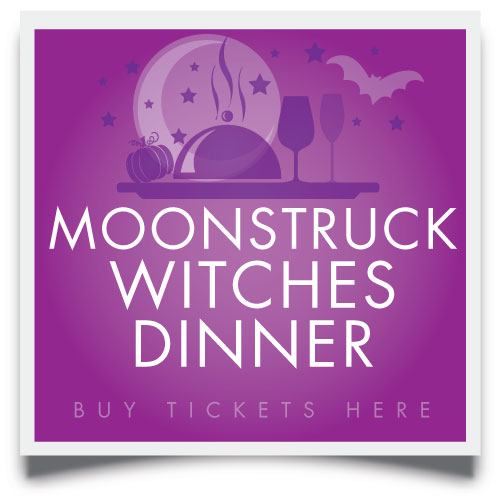 Moonstruck Witches Dinner
Enhance your experience at Gardner Village's WitchFest, by attending Moonstruck Witches Dinner, a private reserved dinner and VIP Witches Mezzanine, on the Mill Plaza where you can enjoy hot cocoa, sodas as well as have full service bar beverages.
Mingle with Gardner Village witches, enjoy a delicious buffet dinner, snap photos at our Photo Booth, and you can return to the Witches Mezzanine after shopping. For a perfect night with your "ghoulfriends," Moonstruck is just the ticket! Tables are of 10, so it's especially fun to get the group together! Book early as this will sell out.
Dates:
October 11, 12, 24, 25, 26, 2019
(Note: Witches Night Out will be held October 11, 12, 25 and 26 and NOT October 24, 2019)
Location:
Mill Plaza at Gardner Village
Cost:
$35 per person
Menu:
Enjoy a variety of buffet food stations: Beverage station, appetizer station and charcuterie display, carving station with turkey and roast beef, mashed potato bar with all the fixings, salad station, fresh-baked rolls and a dessert cart.
GEAR ROOM CALENDAR
WHEEL ROOM CALENDAR
Moonstruck Witches Dinner Friday October 11, 830pm
$
Please make your selections below
If you leave items in your cart without completing your order in a timely manner,
your selections may be removed and made available for others.
TABLE 1
Seat 1
$35.00
RESERVED
TABLE 1
Seat 2
$35.00
RESERVED
TABLE 1
Seat 3
$35.00
RESERVED
TABLE 1
Seat 4
$35.00
RESERVED
TABLE 1
Seat 5
$35.00
RESERVED
TABLE 1
Seat 6
$35.00
RESERVED
TABLE 1
Seat 7
$35.00
RESERVED
TABLE 1
Seat 8
$35.00
RESERVED
TABLE 1
Seat 9
$35.00
RESERVED
TABLE 1
Seat 10
$35.00
RESERVED
TABLE 2
Seat 1
$35.00
RESERVED
TABLE 2
Seat 2
$35.00
RESERVED
TABLE 2
Seat 3
$35.00
RESERVED
TABLE 2
Seat 4
$35.00
RESERVED
TABLE 2
Seat 5
$35.00
RESERVED
TABLE 2
Seat 6
$35.00
RESERVED
TABLE 2
Seat 7
$35.00
RESERVED
TABLE 2
Seat 8
$35.00
RESERVED
TABLE 2
Seat 9
$35.00
RESERVED
TABLE 2
Seat 10
$35.00
RESERVED
TABLE 3
Seat 1
$35.00
RESERVED
TABLE 3
Seat 2
$35.00
RESERVED
TABLE 3
Seat 3
$35.00
RESERVED
TABLE 3
Seat 4
$35.00
RESERVED
TABLE 3
Seat 5
$35.00
RESERVED
TABLE 3
Seat 6
$35.00
RESERVED
TABLE 3
Seat 7
$35.00
RESERVED
TABLE 3
Seat 8
$35.00
RESERVED
TABLE 3
Seat 9
$35.00
RESERVED
TABLE 3
Seat 10
$35.00
RESERVED
TABLE 4
Seat 1
$35.00
RESERVED
TABLE 4
Seat 2
$35.00
RESERVED
TABLE 4
Seat 3
$35.00
RESERVED
TABLE 4
Seat 4
$35.00
RESERVED
TABLE 4
Seat 5
$35.00
RESERVED
TABLE 4
Seat 6
$35.00
RESERVED
TABLE 4
Seat 7
$35.00
RESERVED
TABLE 4
Seat 8
$35.00
RESERVED
TABLE 4
Seat 9
$35.00
RESERVED
TABLE 4
Seat 10
$35.00
RESERVED
TABLE 5
Seat 1
$35.00
RESERVED
TABLE 5
Seat 2
$35.00
RESERVED
TABLE 5
Seat 3
$35.00
RESERVED
TABLE 5
Seat 4
$35.00
RESERVED
TABLE 5
Seat 5
$35.00
RESERVED
TABLE 5
Seat 6
$35.00
RESERVED
TABLE 5
Seat 7
$35.00
RESERVED
TABLE 5
Seat 8
$35.00
RESERVED
TABLE 5
Seat 9
$35.00
RESERVED
TABLE 5
Seat 10
$35.00
RESERVED
TABLE 6
Seat 1
$35.00
RESERVED
TABLE 6
Seat 2
$35.00
RESERVED
TABLE 6
Seat 3
$35.00
RESERVED
TABLE 6
Seat 4
$35.00
RESERVED
TABLE 6
Seat 5
$35.00
RESERVED
TABLE 6
Seat 6
$35.00
RESERVED
TABLE 6
Seat 7
$35.00
RESERVED
TABLE 6
Seat 8
$35.00
RESERVED
TABLE 6
Seat 9
$35.00
RESERVED
TABLE 6
Seat 10
$35.00
RESERVED
TABLE 7
Seat 1
$35.00
RESERVED
TABLE 7
Seat 2
$35.00
RESERVED
TABLE 7
Seat 3
$35.00
RESERVED
TABLE 7
Seat 4
$35.00
RESERVED
TABLE 7
Seat 5
$35.00
RESERVED
TABLE 7
Seat 6
$35.00
RESERVED
TABLE 7
Seat 7
$35.00
RESERVED
TABLE 7
Seat 8
$35.00
RESERVED
TABLE 7
Seat 9
$35.00
RESERVED
TABLE 7
Seat 10
$35.00
RESERVED
TABLE 8
Seat 1
$35.00
RESERVED
TABLE 8
Seat 2
$35.00
RESERVED
TABLE 8
Seat 3
$35.00
RESERVED
TABLE 8
Seat 4
$35.00
RESERVED
TABLE 8
Seat 5
$35.00
AVAILABLE
TABLE 8
Seat 6
$35.00
RESERVED
TABLE 8
Seat 7
$35.00
RESERVED
TABLE 8
Seat 8
$35.00
RESERVED
TABLE 8
Seat 9
$35.00
RESERVED
TABLE 8
Seat 10
$35.00
RESERVED