Spellbound Witchy Wine Dinner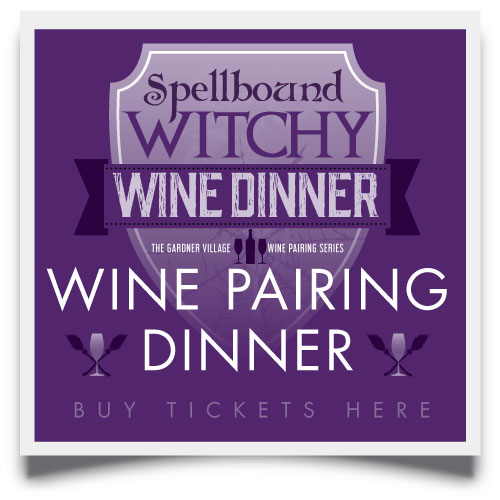 Spellbound Witchy Wine Dinner
Tickets are now on sale for the all-new Witchy Wine Dinners.
Witchy food and wines are the inspiration for our all-new glamorous wine dinners. With a dazzling variety of delicious fall entrees paired with carefully-chosen wines. Dress in your witchy wardrobe as you attend this new special event. Space is limited to 40 guests, and you must be 21 years or older to attend.
Dates:
Select dates in October 2019
Location:
The Wheel Room in Archibald's Restaurant at Gardner Village
Price:
$60 per person
Menu:
Course #1:
Spooky Carrot Curry Soup with croutons, a delightful fall soup with a hint of heat.
Course #2:
Blood Orange salad with red onions and rice vinaigrette
Course #3:
Roasted chicken served with seasonal veggies, fried polenta and topped with a pumpkin shiitake sauce
Course #4:
Melting Chocolate Sphere with salted caramel ice cream and surprise witchy bites from our talented pastry chef, Megan Hall. A bewitching way to end your evening!
BUY TICKETS