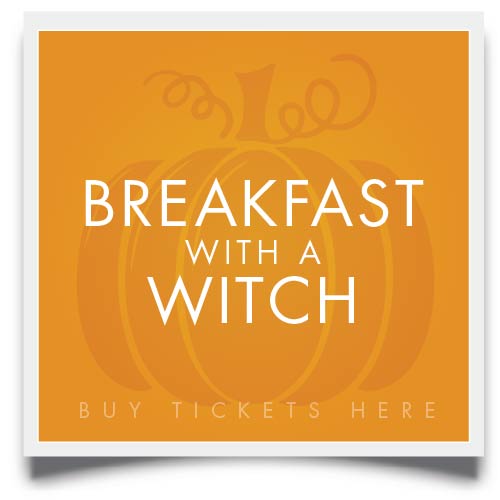 Breakfast With a Witch
Tickets for Breakfast with a Witch will go on sale September 1, 2020 at noon for WitchFest 2020. Changes have been made to this year's breakfast to accommodate current government mandates.

It's Witchwarts and The Goblet of Spiders! Calling all wizards, witches and warlocks as we create the magic of wizardry at our annual Breakfast with a Witch. Enjoy a delicious breakfast served at your table featuring fresh fruit, sausage, bacon, pancakes, eggs, potatoes, juice and coffee. Mingle with our Gardner Village witches, enjoy their shenanigans and take photos.

Dates: Select dates beginning October 2, 2020

Location: The Gathering Place at Gardner Village

Cost: Tickets start at $16.50* per person.

*We've hired ABM Parking to keep things running smoothly. Plan on a $5/car parking fee on Oct. 9, 10, 15, 16, 17, 23 and 24, 2020.

We'll be implementing the following adjustments to ensure the safety of our employees and guests.

--Total number of guests allowed per event will be changed, and breakfast service will be adapted per government mandates. There will not be a buffet or witch autograph sheets this year.

- -Our servers and witch entertainers will not be removing items or clearing the tables during the event.

- -Staff will be required to wear masks.

--Risk of exposure to COVID-19 exists in public places where people are present. By visiting WitchFest and Breakfast with a Witch at Gardner Village, all guests and employees voluntarily assume all inherent risks of exposure.

--All WitchFest activities, dinners, breakfasts and events are subject to change without notice per developing city, state and federal mandates due to COVID-19. We understand some changes may be disappointing, and we'll update our website as new information or changes occur.

Although it may look a little different this year, we're so excited to be able to host this fun and cherished event with you.